I never really considered myself a doll person, but they'd always intrigued me. Many times you see that a person's interest in Lolita fashion either comes from or leads to a love of dolls, usually Asian ball-jointed dolls (named so because of their movable joints). They tend to be costly and then when you get into outfitting them with not only clothes, but wigs and endless other accessories the cost can be overwhelming. Considering that I'm still more interested in dressing myself as opposed to a doll, I always thought that when I was ready to retire my own petticoats I'd consider getting into dolls as a way to continue my love of various fashions.
That was until I saw the newest Pullip and Angelic Pretty collaboration! I was just so taken with them, and when I noticed that one of them had a tiny pony purse… I HAD to have her.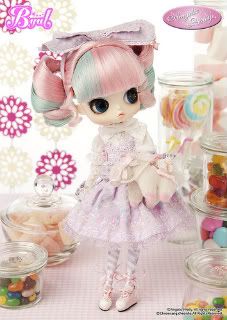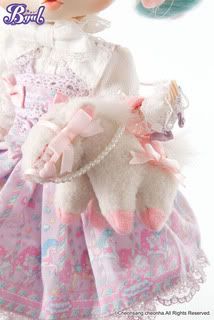 Byul Sucre won't be out till March though so of course in the meantime I was browsing through the rest of the
Pullip Style website
where I ordered my first doll, I fell in love yet again.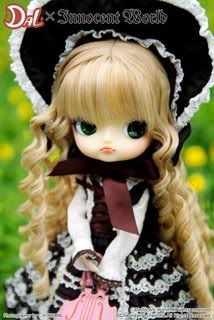 Dal Clair was released in July 2010 as a collaboration between Pullip and Innocent World, a brand I've always admired. What really sold me though was her eternally grumpy face. Until I saw her expression I never realized how grumpy I can be when I'm all dressed up in my Lolita finest. Once I'm finally finished primping and preparing and look my best I only want to sit down and relax, chat with my friends and eat snacks. Somehow though I always end up walking too far, posing for way too many pictures, and never having snacks when I want them. I can be a very very cranky Lolita indeed.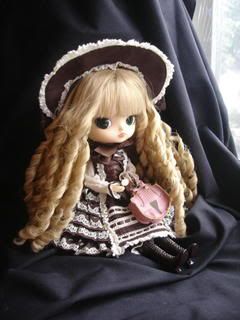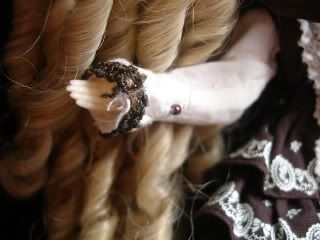 The tiny buttons on her cuff!
I went ahead and purchased her and since this doll wasn't a pre-order she was right on her way. She came a few days ago and to be honest I just love seeing her. She's so beautiful and her dress and accessories are so beautifully detailed. In a bizarre way I just love having her here on my desk and seeing her grumpy face being so displeased! I decided her to name her "Anne" and took a couple of shots of her inside because the weather was so nasty outside. I think her face says it all, "All dressed up and no where to go!" Grump grump grump.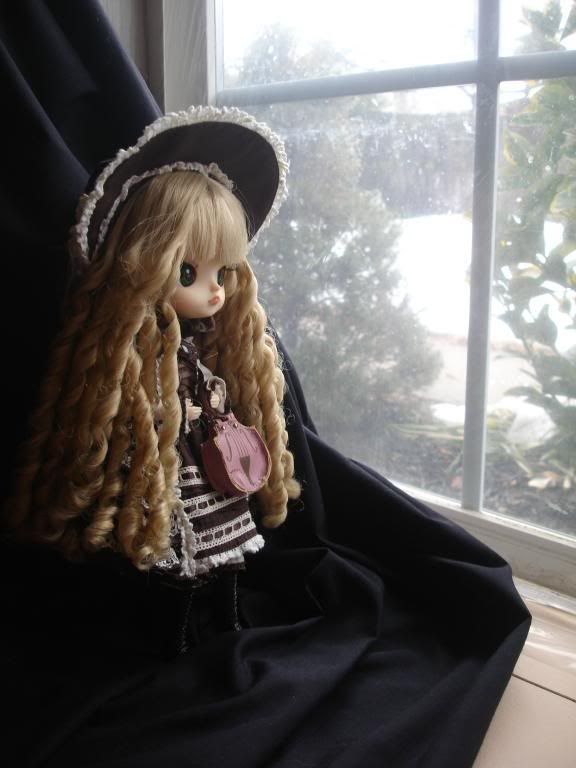 Of course having seen this beautiful doll in person, I'm so excited for the first doll that I pre-ordered! Even worse though, now that I've fallen so head over heals for the Dal face I want to order her in the Angelic Pretty series! Maybe I'll convince my husband to let me have just one more… Of course a little while ago I didn't have any intention to have any dolls and now look at me!!