Finally I've gotten settled in to our temporary residence and I'm back online and ready to post again!
Since we've moved in to stay with my in-laws I thought it was perfect timing to invest in some roomwear. Roomwear are clothes that are just for hanging out in the house or sleeping in. Personally I would NEVER wear what I consider roomwear outside of the house like some people seem to do here in the US. Vice versa, I don't necessarily feel the need to "get dressed" when I spend a majority of my time at home, doing the housewife thing. I want to be comfortable, but still cute and stylish.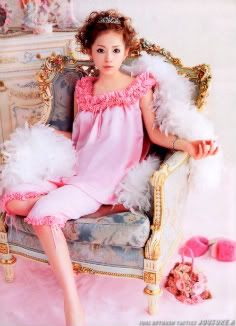 Sorry, no cute pictures of me in my roomwear!
Personally I love jackets and cardigans so I love matching sets like those available from Juicy Couture for roomwear. I got a chance to do some outlet shopping at Juicy this weekend and picked up a great haul including a pair of matching pants and short sleeved jacket set as well as a white terry hoodie (which they left the sensor on!! I have to go back now!!). I was also really impressed by the sets that were available from the aerie by American Eagle. Much nicer and more snuggly than generic sweat sets, I purchased two pairs of short pants and a coordinating jacket, as well as a few tank tops. I love tank tops almost as much as I love jackets and have a ton in different styles and colors, mostly because either I'm really cold or desperately hot so layering is the key for me. I also have a few pairs of super short shorts for when it's too hot in the summer for long pants and a few men's white undershirts for basic coordinating. (And why don't they sell packs of women's shirts like they do men's? Unfair.)
I'm also the proud owner of a kigurumi (kigu for short), which if you don't know are like oversized one-piece hooded pajamas that are styled like animals or popular characters. Personally I have a hamster one and for as silly as it may seem, they are ridiculously comfortable and really do add a bit of spirit if you aren't particularly feeling well. Usually if you find me at home in my kigu, it's because I need a bit of coddling and sympathy. I'm always so tickled when I see the gorgeous models of ageha hanging out in a kigu when at home; so cute!!
What are your favorites for roomwear?