Yesterday in honor of Sneaker Sunday, I decided to don my sneakers and putter around some museums while the husband watched a Korean movie at the Freer Gallery... or is that the Sackler? Whatever. I dressed a bit too warmly for the day, but I still had a good time and was definitely more comfortable than if I'd tried to bear it out in Lolita shoes. Great idea and I hope to participate in more Sneaker Sundays.
Hope Diamond
is half the fun. (You know she used to let her DOG wear it?!!?) Currently the diamond is out of it's setting and on display with another large blue diamond of note. That place ALWAYS makes me want to go shopping for jewelry. Technically I'm not supposed to be in there because we always end up in a jewelry store later. XD Though I was really there to see the exhibit on forensic archeology and bodies from the 17th and 18th century Maryland and Virginia. So I saw tons of bones and many dead people and it just didn't really do it for me. I didn't spend very long there before I left for the National Gallery to enjoy some 18th Century French paintings. *sigh* I want to live in every Boucher painting. I also want to own EVERY dress he's painted. My current obsessions include: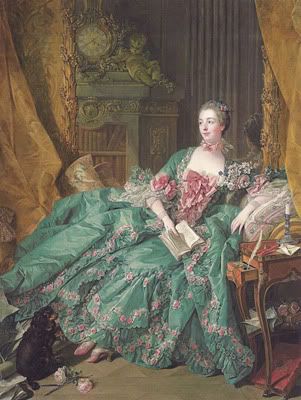 Madame de Pompadour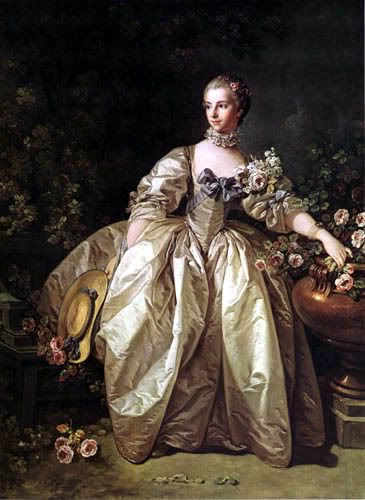 Madame Bergeret

The one on the bottom being the painting I was lucky enough to plant myself in front of and sigh at for about half an hour. *sigh* Totally need this in my life. Especially that hat, SO CUTE! I figure the dress on the top for a night out and the dress on the bottom for a more casual look. Haha!
I did learn something important though yesterday (other than sneakers>loli shoes), for as much as I love museums, puttering around them by myself is not something I find enjoyable. I would much rather have some company to talk and discuss as we explore the exhibits. I think I can safely remove "museum hopping" from the list of things to do on my own during weekdays. However dressing up like a painting and wandering the halls of said museum is still a viable option.